M E M B E R S H I P
Don't be just a passerby, bystander, drive-by or fly-by.
Join the staff of the mall.
Become a member of the DRAGONOPOLIS team!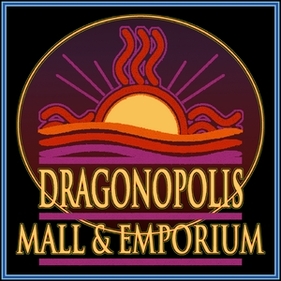 Fig. 2.
All visitors to the DRAGONOPOLIS mall and emporium are valued guests. Staff membership in DRAGONOPOLIS is free, however, and grants priority responses to member comments and questions, plus qualifies staffers for special purchase discounts.

Upon submission of your name and email address, all of which are kept strictly confidential, you will be officially enrolled as a member of the staff of the DRAGONOPOLIS Mall and Emporium. As such, you are entitled to certain benefits and privileges unavailable to casual visitors. Worth repeating is that staffers also enjoy discounts towards the purchase of books, art prints, and other investment-quality merchandise ( I do dislike that word).

Once arrived in any department, all visitors, guests, and staffers alike will be introduced to the various exhibits presented there. Everyone is invited to explore, browse, join the staff, sign our guest book, request more information, or make purchases. All POD items available for sale are printed on heavy, good quality papers, dated, personalized with my signature as both artist and author, and are suitable for framing.

---
---
D R A G O N O P O L I S
The Official, Seemingly Important, Non-binding, Staff-Member Enrollment Form
All submitted information is considered absolutely confidential unless specified otherwise.
(You can also use this form to Contact Me about whatever)

---
So what's the big deal? Why bother?
And do I have to wear a name tag?


When DRAGONOPOLIS officially opens for business in early 2014, a large number of mini-galleries will offer a wide variety of artworks to both view and consider as purchase items. I'm hoping the temptation will be strong to own one or more of the highly affordable, hand-signed pieces on display.

Although the membership option may seem superfluous, supercilious, even super silly, it is designed to make the site more personal, more customer-friendly, less the product of some stranger who remains dispassionately disconnected from those he describes as welcome visitors and guests. If nothing else, patrons who buy stuff can save some serious pesos in the process. Staffers get a 20% discount on everything for sale. And up to 100% off on the rest that isn't. How cool is that?

Lastly, the description of this site as a mall and emporium is not much of an exaggeration. When completed, DRAGONOPOLIS will offer something for everyone who likes art and fantasy fiction, and might enjoy owning a piece (or more) of what they discover here.

Whether a small window into the Cosmos as found in ASTRONOMICON, one of my cutesy dragon hybrids who reside in DRAGONOMICON (and elsewhere) or a selection from one of the eclectic departments I refer to as IMAGINOMICON and NOUMENOMICON, one may well find a work that speaks to them personally. That has their name on it, so to speak. Would look good over (or in) the fireplace and might definitely make a great gift for that person they know who collects whatever. Did I mention the prices are cheap? That too. No, seriously. Take a look. I'm more interested in sharing right now, than in making pool payments. I don't even have a pool. Not yet.

And no, you don't have to wear a name tag. Unless you want to. I do, but
that's just me.



* * * *



You're currently in the Staff Room page
listed under Customer Service / Contact Me



Check out Timtu and his Dragoneers on the next page.

Click here to go directly to the Guest Registry page.
I won't know who you are, but I'll know you were here.
And what you said, if you chose to say.




You don't need to own a Kindle in order to
read any of the eBooks sold or offered
for free in Amazon's Kindle store.
Click here to download a free
Amazon eReader that is
easy, fast, and fun.