T h e M I L L E N I U M C o l l e c t i o n
Extraterrescapes & Stellar Miscellany

---
Worlds far away,
Galaxies so far, far away.
Places to visit,
But seldom to stay.

Worlds far away,
Planets without a past, no tomorrow or today.
Lands quiet and pale,
Painted in rainbow hues of gray.

Worlds far away,
Where stars shine extra bright.
Realms of unending day,
Of skies without a night.

Worlds far away,
Galaxies so far, far away.
Places to visit,
But seldom to stay.

---
---
Countdown as Epilogue

Welcome to ASTRONOMICON, home to an extensive collection of images created from original acrylic paintings by Robert Anton. Rendered on canvas during the 1970's, then converted into computer files in the nineties, these astronomical artworks (now digitally enhanced) are designed to capture the awesome magnitude and the surreal majesty of countless extraterrestrial worlds. Not those bustling with life, however, but rather the more mysterious places where sky and land appear dreamlike, eerie, both familiar and alien. Strange worlds with multiple moons or bodies which orbit mother planets of all sizes, colorations and moods. And heavens spattered with infinite points of starry light, each the site of yet other visions, other realms populated by uninhabited planets of inscrutable intrigue and solitary beauty.
---
Introduction:

You're definitely not in Kansas

ASTRONOMICON is an unusual collection of small acrylic works painted during the 1970's as part of a combined philosophy and art project commissioned by the Emerald Foundation of Portland, Oregon. Originally entitled "Windows Into Space" the images displayed here were adapted and enhanced from 35mm photographic slides. The aggregate of pictures, both new and old, has since been renamed ASTRONOPOLIS: The Spacewerks Compendium.

The whole collection which originally required more than five years to complete, totaled approximately 250 framed paintings, all on exhibit at one time (when displayed) and covering thousands of square feet of floor space.

The early 1970's were a turbulent time and "Project Survival" as a social group, remained unfinished and unrealized. Based upon an internet search, the Foundation itself, beyond the 1980's, appears to no longer exist. Other than these digitized pictures, the ultimate disposition of many of the largely unsigned artworks has been lost to history. At this very moment, perhaps in dozens of households across the country, little paintings hang in obscurity, the artist and original source of the pieces unknown to most if not all of their owners. The bulk of the original collection, however, remains in the private hands of an owner who presently lives in Oregon (obviously a long story). It has always been my intention to one day repair, restore, and finally sign these paintings. If not in this lifetime, definitely in the next. Acrylic paint is said to last a long time.

An intriguing thought still occurs to me at times. How I might someday stumble across one or more of the lost paintings. Because of the internet, I now imagine some owner of my work who, while surfing the web, inadvertently discovers their prized possession prominently exhibited on the dragonia.net / dragonopolis.com website. Afterward, the person then sends me an angry message complaining that their painting, without permission, is on display. And how dare I sell reproductions of it. Then they find out I'm the artist and we have lots to talk about.

Almost two decades ago, the slides were scanned into a computer and using the Micrografx Picture Publisher graphics program, were cleaned-up and further refined by the artist. For the first time in almost four decades, they are presented here for your viewing curiosity, scrutiny and hopefully, your enjoyment.

Individual prints or bargain-priced "suites" of three or more are for sale and can be ordered directly from the management (me) of the DRAGONOPOLIS Emporium. Each is available as a dated and signed version, printed on quality paper suitable for framing, and comes with a certificate of authenticity.

By the way, among all the artworks on display, including all those in every department of DRAGONOPOLIS, the Spacewerks collection is the least finished or complete. After more than fifteen years of continuous refinement, the compendium remains unfinished. Over the next few years, I hope to finally conclude the series and put it to cosmological pasture once and for all. One of the big reasons for delay (of which there's been many) lies in the fact that I'm a better artist today than I was in 1972. Once the process of improvement began, the newly remastered paintings often appeared quite different from their unretouched counterparts. Thus a merry-go-round, of a sort, came into play and I've been chasing those ponies ever since, so to speak. I mention all of this in the event that questions arise in viewers' minds as to why some of the paintings look different from others, while others still, appear somewhat unfinished; it's likely they are to one degree or another.

That said, finalizing The Spacewerks Compendium remains a high priority item on my list of things-to-do. In the meantime, I felt it would be interesting to visitors of this site to see a large collection of works still somewhat in limbo, as works-in-progress still not ready for prime time, but getting close, some more than others.

Because the Cosmos evokes as much intellectual curiosity as it provokes artistic creativity, I couldn't help but put some of those ideas and feelings into written form. For better or worse, I've included these thoughts and interspersed them among the images, hoping each complements the other. You be the judge as to whether all of this together makes sense, or if I should keep my day job. Wait, this is my day job. Never mind.

---
---
In the beginning,
So shall it be,
In the end.

Somewhere out among the stars await the answers to all our questions. The right questions. Somewhere within human minds reside the solutions to other, more personal questions, no less important than their cosmological counterparts. Either wellspring may be a reflection or an extension, a product even, of the other. Without the one, neither exists.

It is said that while questions are plentiful, answers are few in number. More accurately perhaps, it is answers that abound and indeed questions which are scarce. The right questions. Precise queries that elicit readily available, often obvious results. But only when viewed, when scrutinized in exacting, singularly perceptive ways. In the presence of an appropriate question, its interlocking answer need not be pursued or sought. Rather it appears of its own accord, absent vagary or disguise.

Among the artworks displayed here are some of the right questions. The artist, however, does not presume to know what is asked, nor what answers if any, are provided.
---
Deja TVu

Space.
The first and only frontier.
These are the voyages of the starship Humankind,
Its multi-million year mission to explore strange new worlds,
To seek out new life and new civilizations.
To boldly go where no human mind has gone before.

---
The New Arrivals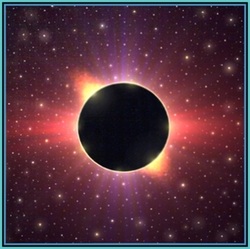 Fig. 3.
Akin to the varied departments found in DRAGONOPOLIS, the Cosmos is its own vast emporium filled with countless office parties that burst forth with never-ending spectacles of light and color and sound. Of thunder, crescendo and renewal. But also of unimaginable silence, calm, and darkness. Places real, but cold, inscrutable, deceptively subtle. Others loud and boisterous, sweltering and seething.

Few revelers attend such affairs. Events private, unwitnessed, neither joyful nor joyless. Elaborate trappings stand indifferent to absent guests, where emotions could spoil the mood.

Come the party crashers. Human beings, the uninvited attendees who assess and partake, pass judgments of quality and inadequacy, and lay claim to that which can be neither possessed nor measured.

---
---
A History of Grand Perceptions

ASTRONOMICON represents the difference between what can be artistically imagined compared to the uncompromising realities of what truly is, and what is not. Artists' conceptions of other worlds, realized throughout the twentieth century, were consistent portrayals, more precisely expectations of alien landscapes pictured with jagged, sharp-edged mountains and rocks. Rigid and well defined, with angular lines and unambiguous shadows. Virtually the same, in a sense, as the thinking that went into such speculative representations.

But beyond the art came the photographs from modern telescopes, space probes, and remote robotic cameras. Scientific hard evidence soon contradicted ambitiously artistic and visionary perceptions. Real scenes of rolling, velveteen, macro-size land and seascapes, both soft and smooth. Of rocky faces and shards like polished metal blades. The theorized view from afar compared to and contrasted with, the up-close eyewitness.

Foresight always falls short of actuality. Imagination, though fertile, possesses limitations and restrictions past which the mind falters. We are unable to comprehend what exists outside our personal experience or knowledge, even our long acquired wisdom. The genius of insight is both omnipotent and impotent. Realities tend to affront preconceived, subjective notions of the rational, natural world. Though very real, extraterrestrial environments seem unnatural, irrational, impossible. Such exotic locales are both the inhibitors and destroyers of life, but also its greatest progenitors.

Contemporary revelations suggest that things living, nonliving, animate and inanimate are not separated by differences of quality or substance. That each is merely an indistinct form of the other, neither envious nor superior. And without both, none prevail.

---
---


You're currently on the main-menu-page of ASTRONOMICON



Click on the link below to peruse the Table of Contents.
The astronomer Galileo was Italian, in case that title
looks a bit confusing.