Page 5




Of Kings and Queens
Dragons and Unicorns
Wizards, Fables, and Legends

---
A New Literature for the Classic Tales
Of Ancient and Modern Lore

The princess reached down, clutched a handful of dirt, then raised it in front of her. When she spoke once more, the soil spilled from her open palm. "If that which no longer lives be your demand, I offer you this, the joyless flesh of Dragonia itself as payment. For as long as the Trueblood reigns, our land is truly dead."
-- Book I / A Portal In The Storm

The DRAGONIA Trilogy is more than a lengthy tale about dragons. The story aspires to be more, to go beyond the colorful settings and characters that populate its continental landscape. Lacewing fairies, humanoid trolls, cutesy elves or grotesque gnomes do not exist in the universe of DRAGONIA. Nor do long-robed, pointy-hatted wizards, spell-casting witches, goblins or similar kinfolk inhabit DRAGONIAN realms. No armies of righteous humans do battle with hordes of weapon-wielding evildoers. None are at the mercy of egocentric and meddlesome, all-powerful gods and goddesses.

Most of the magic and wonder found in DRAGONIA stems from its collection of unusual and fanciful animal characters, each a part of an epic fable that strives to minimize its mystical contrivances in favor of more realistic, more believable fantasies.

Someone very wise once said that truth is stranger than fiction because truth does not need to be believable. With this idea in mind, the fictional circumstances and events presented in the DRAGONIA Trilogy are scrupulously dedicated to what is reasonably plausible, might be reasonably expected, and could exist as rational possibilities within the context of purely imaginary worlds. Worlds that, while drawn in practical, realistic terms, brim with magic, wonder, and whimsy.

To further enforce and enhance these and other concepts, strong narrative components were considered vital and equal in importance to the story's dialogue elements. In this sense, the text is narrative heavy compared to other literary styles. Though rich in dialogue as well, the authors did not want to shirk the vivid, sometimes laborious descriptions necessary to properly "paint" the strongly visual scenes found in DRAGONIA. Nor should characters who are physically complex and emotionally sophisticated, be rendered upon flimsy easels or surrounded by "cheap" sets and skimpy backdrops.

Just as many physical parallels are drawn between Earth and DRAGONIA, the multitude of players paraded throughout the story, their tests of mind and passion, of violence and gentility, seem less fantastic and more familiar, more Earthly, more genuinely human in nature. To this end the fable weaves its wondrous tales of strife and victory, of heartache and elation, of the ever present humor and irony of tragedy and triumph.

For a time, set aside your prior notions of the mythical and the incredible. The inhabitants of DRAGONIA are real. They are friendly, delightful and lovable. Some are scary, ill-tempered and downright villainous. A few are silly and others just plain funny. But all are amazing and they will make you a believer. They are the dragons of DRAGONIA.

In its third incarnation, the DRAGONIA Trilogy required over thirteen years and 100,000 hours of development and execution. During the span of time involved, efforts were evenly split between text and artwork. Without the aid of personal computers, however, such an elaborate and labor intensive project, for a contemporary artist or writer, would have been unthinkable, let alone achievable.

All of the art was initially rendered as large, pencil drawings. These in turn were refined, inked, then scanned into a computer as black and white line art. Using the MICROGRAFX Picture Publisher graphics programs, the images were individually colored, shaded, and enhanced. It bears repeating that none of the character "portraitures" are a reproduction of a separate, stand-alone original artwork. Every print represents a hardcopy product of a finished piece trapped forever with the inner workings of a computer.

---
And now for something completely different. . .
(with overdue apologies to Monty Python)

Q u i c k i e P o s t e r Q u i p s


---
Slogans, Mottos, Snips, Snorts, Gags, and Wisecracks


The following is a "small" list of text blurbs that either already exist in poster form designed for prints, or could be adapted for use on various garments (tee's, jackets, hats) with or without a character or including instead any one of a wide range of available emblems, icons, or logo-style images. Many appropriate combinations are possible, others less so, but each to his or her own. This section remains a work-in-progress and its final outcome and operation is still to be determined. Ultimately either a small, predetermined selection will be offered, or a wild "mix and match" available from a large assortment of choices. As always, I'm open to suggestion on many of these matters.

JURASSIC SPARK / ALL FIRED UP / SMOKE ALARM / BURNED UP BUT NEVER OUT / HOT STUFF / DRAGONS INKORPORATED / KEEPERS OF THE FLAME / TORCH BEARER / TORCHED IN THE HEAD / TORCH SONGS / HOT HEADED / HOT TEMPERED / HEAVY BREATHER / DRAGONS SLAY ME / DRAGON SLEIGHOR (XMAS) / FIRE SALE / INFERNAL COMBUSTION ENGINE / FOSSIL FUEL BURNER / HOT LIPS / SIZZLER / WELL DONE / STOKED / FUEL GUZZLER / PACKING HEAT / STEAMED / HEAT TREATED / …STAY OUT OF THE KITCHEN / FIRE ENGINE / A DIFFERENT KIND OF VULCAN / FIRE BRAND / WILDFIRE / FIRE CONTROL / TRAIL BLAZER / BEAT'EM UP, BURN'EM UP, ROAST'EM, TOAST'EM, ROCK'EM SOCK'EM / TOAST MASTER / DRAGONS DO IT HOTTER / ON FIRE / NOT BLAMELESS, SHAMELESS, OR FLAMELESS / HOT EXHAUST / NO MUFFLER NEEDED / BORN TO BURN / BURNED BUT NEVER BEATEN / DRESSED TO GRILL / ASH KICKER / EMBER MEMBER / SINGE BINGE / FIRE FOR HIRE / EVER WONDER WHERE DRAGONS COME FROM? / SMOKING ALLOWED / HOME IS NOT ALWAYS SWEET / DRAGLES RULE / DRAGON COUNTRY / FIREDRAKE / LAIRE OF THE FIREDRAKES / FIREDRAKES RULE / IF A MALE DRAGON IS CALLED A FIREDRAKE, THEN A FEMALE DRAGON IS A FIREHEN / DRAGONAISSANCE LAIRE / HAVE FIRE, WILL BREATHE / DRAGONS RULE / FEEL THE BURN / HOME IS WHERE THE HEARTH IS / REALITY IS ONLY A STATE OF MIND / TAKING AIM AND SHOOTING FROM THE LIP / DINOSAURS COULDN'T DO IT, WHALES AND SHARKS WOULDN'T DARE. KOMODOS HARDLY SPIT WHILE LIONS AND TIGERS LACK SUCH FLARE / WHERE THERE'S SMOKE… / COLLATERAL HOMAGE / NO CABLE OR SATELLITE DISH REQUIRED / DRAGIONS, DRAGIGERS, AND DRAGEARS, OH, MY / DEFINITELY NOT IN KANSAS / HOTTIE / I GOT THIS AT A FIRESALE / TAKIN' NAMES AND KICKIN' ASH / FIRE FOR HIRE FREQUENT FRYER / HEARTHS & FLOWERS / AMERICAN DRAGONEER / LET FREEDOM STING / AMERICAN FIRE BRAND / BRAND AMERICAN / TALE RAISER / HANGING EIGHT / ES CAR GO? SI! / LYNX LINKS / BORN TO WIN / ENDEARING, ENCHANTING, ENDANGERED / D IS FOR DRAGVARK / Z IS FOR DRAGEBRA / FLARE FARE / LOTS OF SMOKE, NO MIRRORS / GET CONNECTED. GO DRAGONLINE AND VISIT THE WORLDS-WIDE DRAGNET / VICTORY IS NEVER SMALL / BOOK WORM / AERIEL BOMB / DRAGONS WITH ATTITUDE / DRAGHINOCEROS. SAY AGAIN? / PANDAMONIUM / NEVER ENGAGE A DRAGON IN A HEATED DEBATE; THEY CAN BE REAL HOTHEADS / AVOID DRAGONS WHO IMBIBE / A REAL LADY (DOT) / NO ONE IS EVER BUGGED BY A REAL LADY (DOT) / JUST DRAGONS. MOSTLY. / ATYPICAL STEREOTYPES / WILL WORK FOR PEANUTS (ELLIE) / TEENAGE MUTANT HYBRID DRAGONS / CATCH THE LATEST BUZZ / BEETLES WITH WINGS, NO GUITARS / WISDOM NEVER GETS OLD / SPECIES: DRAGANTHER, TEMPERAMENT: ILL / BLAZING NEW TALES / A DRAGONOCKOUT / FLYING FIERY FELINE FEMMES / DRAGON FLY / FLYING FELINES FLICKING FIRE / STOP AND LICK THE ROSES / GIANT FIRE-BREATHING MUTANT BUTTERFLIES / THE CURE FOR MEDIOCRITY / HONEY OF A STORY / NOT JUST ANOTHER FLYING FELINE WITH FLAMES / HOLY GIANT PREHISTORIC PTERODRAGODACTYLS! / REAL DRAGOONS / CAUTION: FLYING PIGS / A TIMELESS SAGA IS HATCHED ANEW / A LITTLE DRAGON GOES A LONG WAY / DROVES OF DRAGONS, PLUS A DRAGURTLE OR TWO / A KILLER FABLE THAT KICKS ASH! / THE FOIE GRAS OF MOTHER GOOSE / WHO CAME FIRST, THE DRAGON OR THE EGG? / LONG SHELLF LIFE / BOOK ME UP, SCOTTY / LET'S BOOK / BOOK YOURSELF OUT OF TOWN / BOOKED SOLID / BOOKIN' / COOK BOOKS. SORTA / BOOKS THAT COOK / BARBE-CUTE / ROOKERIE COOKERIES / A REAL BLAST / NOTHING HALF-BAKED HERE / HOT AND COOL ALL IN ONE / FICTION WITH FRICTION / WELCOME TO THE OUTSIDE OF THE BOX / YOU ARE HERE / WHEN YOU WISH UPON A STAR, BE CAREFUL WHAT YOU WISH FOR / SMALL STEPS (SQUARED) EQUAL GIANT LEAPS / THINK OUTSIDE THE BRAIN / THINK OUTSIDE THE BALL / WELCOME TO THE OUTSIDE / YOU ARE HERE.

---
---
DRAGONIA: Tales Of The Golden Talon
About the Original Single Volume First Printing
Produced April, 1998 (Unofficial)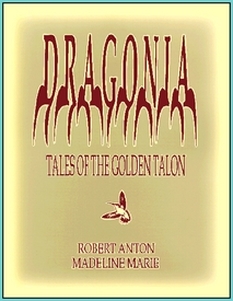 Fig. 12.
This single and complete volume represents one of the original batch of 150 books first printed by the authors in April 1998. In order to present the story as a bound and manageable whole, suitable for future editing, revisions and additions, the bulk of these initial copies were largely absorbed by friends, family members, and interested acquaintances. Each book is a full 8 1/2" x 11" in size, over two inches thick and 900 pages in length. Most people felt that by sheer bulk and weight alone, they got their money's worth.

Available for the first time and through this website only, a remaining quantity of twenty books or so are for sale while the supply lasts. Only one per address, please. Each book comes with additional materials including first-run test sheets of art prints, dated, obsolete printed matter, and a miscellaneous, potpourri mix of other interesting tidbits, including a hand-edited chapter from early, pre-publication manuscripts. If treated with TLC, this rare first incarnation of DRAGONIA should prove an interesting collectors item. It is its own time capsule of sorts, and speaks to an innocence of energy and enthusiasm that quickly grew to become a lifelong endeavor.

Much appreciation is owed to those individuals whose generous purchase of an obscure, relatively expensive novel affirmed their support and encouragement of both the authors' hard work and the DRAGONIA Project itself.

By late 1997, the final drafts for the story fell swiftly into place at the end of nearly five years of intensive effort, both on text and illustrations. Rushed into production for a variety of reasons, numerous errors (of all types) were anticipated and later found to exist throughout the entire book. Fortunately none were major or adversely affected the overall continuity of the story. Always envisioned as a "work-in-progress" this first version lacks a final polish which would ultimately require more than five years of additional refinement. The dialogue here is often rough or vague in meaning, and many scenes beg for a bit more descriptive detail. Of special note are the included illustrations which, at the time, were little more than half complete.

It goes without saying (but I will anyway) that DRAGONIA will never again be produced in this one-volume size or format. Nor will it be printed in a condition that reflects the unimproved, original writings as they exist presently. Much has changed in the years since this initial edition was "hatched". Hundreds of both minor and complex editing alterations have been implemented. The dialogue is smoother, more crisp, the narrative text corrected and clarified. Many scenes are now enriched with added visual details. Most significant is the conversion of the novel into a fully realized trilogy. Readers of this single volume edition, if so inclined, could easily identify exactly where the first and second books were culled from the manuscript as a whole, giving birth to the newly conceived trilogy. When the official first and second editions were eventually printed, the finished illustrations were dispersed among the separate novels, the various character portraits placed in proper sequential order of their appearance in the story.

Using this book as a guide, the trilogy was created as follows: Book I - chapters 1-29; Book II - chapters 30-59; Book III - chapters 60-85.

With the advent of the DRAGONOPOLIS website, an internet presence now adds a host of fresh dimensions to the ongoing DRAGONIA project. For the first time in almost twenty years, the "story behind the story" can be told and shown to any and all who might be interested.

Robert Anton & Madeline Marie / Summer 2001-2013

---
---
D R A G O N I A
Novel-by-Novel Synopses
(my favorite versions)

---
The land of Dragonia
An idyllic realm plunged suddenly into chaos.
Ripped asunder by a merciless would-be king.
Princess Boja, the newborn queen.
Rightful heir to a matriarchal dynasty.
Protected by Shelldon, an appointed guardian, mentor, and friend.
Both exiled to another world called Earth.
A refuge safe from the wrath of the fearsome usurper, Dragragon.
Once of age, the untried princess and her defender must return home.
Face and defeat the invincible tyrant who awaits them.
Somehow rescue a domain ravaged and forsaken.
An empire where despair and hopelessness rule in the queen's stead.

Book I / Season I
A Portal In The Storm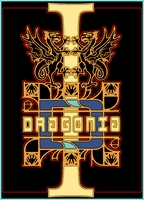 Fig. 14.
Near a present-day rural community in a peaceful valley, two strangers await their opportunity to return home. Home for Boja and Shelldon is a place called Dragonia, a world other than Earth, from which they fled through a mysterious, inter-dimensional portal.

Prologue to the story, Dragonia is seen as a realm inhabited almost exclusively by winged, fire-breathing hybrid crosses between dragons and ordinary varieties of animals. The largest and most powerful Dragonians are the ancestral, purebred dragons known as Truebloods. They share the land with other dragreatures who are, as described earlier, only part dragon and part mammal, bird, reptile, fish, or insect.

For a thousand seasons, Dragonia has been governed by a Dragle matriarchy. Dragles, the dominant residents of Dragonia, except for the Truebloods, are an equal mix of eagle and dragon.

Several simultaneous events, all of them mostly tragic, have since converged and, in addition to rampant chaos and fear, have also brought hope to the crumbling Dragle dynasty.

One such occurrence concerns the death of the reigning Queen Fahrna, Boja's grandmother. For the first time ever, prior to Boja's birth, the realm is without a female successor. The absence of a new monarch has allowed confusion and disorder to govern in Fahrna's stead.

Another event involves the Truebloods, who have suffered from a lengthy plague that afflicted only their kind. The last of their herds have all but disappeared from the land.

Dragragon, a Trueblood immune to the disease, has gone insane with grief over the death of both his mate, Sarene, and the others of his kind.

Shortly after Fahrna's untimely death, a daughter named Boja, and her brother, Karnis, have been born to Melia, the mate of the former queen's only son, Jonaf. The hatchling princess bears the Royal Mark of the Golden Talon, which signifies her as the rightful heir to the royal log located inside the Cave of Queens. The huge, horizontal timber, the lofty perch of all Dragonian queens, sits braced between mammoth pillars of stone, their tops blazing like twin, gigantean torches.

The coronation of the newborn empress will once again bring harmony to Dragonia, and restore the ancient domain to its prior glory. But on the eve of the momentous occasion, Dragragon takes vengeance against those he wrongly believes are responsible for the plague. He attacks the Dragle colonies, usurps the monarchy, and proclaims himself King of Dragonia.

Driven from the mainland, all the surviving Dragles have fled to Moon Hala, an island refuge far off shore. Fahrna's elderly consort, Grandohr, who is Boja's grandfather, remains behind, safe inside his royal chamber deep inside the sacred, volcanic mountain known as Mamag.

To save the life of the threatened princess, the Royal Family arranges for Boja's escape to Earth via the help of Shelldon, a dragurtle who is part turtle, part dragon. After traversing a dangerous, forbidden portal, Stormport, the appointed guardian raises the newborn until she is mature enough to return home. Once there, he intends to aid the heiress in reclaiming her stolen birthright.

* * * *

Chapter one finds Boja and Shelldon well established in their new setting. Having grown physically and then accustomed to a place she considers her only home, many of the natural instincts of the princess lie dormant within her. She is reluctant to assume her true identity, and does not aspire to fulfill a destiny chosen for her by strangers who supposedly reside in some foreign world. Compelled, however, to see her mother, father, and brother, Boja relents and bids farewell to her Earthly friends.

The two soon reenter the portal, travel back to Dragonia, and begin a series of adventurous journeys. Their initial arrival drops them at the outermost borders of the island dragontinent. Boja's grandfather, Grandohr, awaits the pair at Dragonia's remote opposite end, where the immense volcano, Mamag, stretches the entire breadth of the distant landscape. Divine Lords are thought to occupy the holy mountain and control the destinies of all Dragonians.

Held prisoner in his chamber, Grandohr's dwelling is among a cluster of deserted and burned-out Dragle caves, plundered by Dragragon, that sit high above the Cave of Queens. Located at the base of Mamag, the sacred temple is where the Trueblood resides as a result of his insurrection.

While the Dragle colonies endure their government-in-exile on the island lagoon, Moon Hala, the remainder of Dragonia's inhabitants live under the watchful oppression of Dragragon and two accomplices named Rak and Urrol. Rak, whose prehistoric Earth ancestors blundered through the portal, is known as a dragodactyl -- a creature who is half dragon, half pterodactyl. Urrol, a draguirrel, is part squirrel.

As Boja and her guardian's perilous quest to reach her grandfather progresses, they encounter a variety of Dragonia's native residents. Shelldon learns how Dragragon would slay any Dragle on sight, but especially the queen, the usurper's greatest threat who has yet to be officially coronated. Who never will be if the tyrant finds her first. Unsure who remains loyal to the monarchy, the dragurtle keeps Boja's identity a secret, and covers her special talon with coatings of mud and soot. Unwilling to fly, for fear of being spotted, the guardian and his charge travel on foot and only at night.

After a brief stay at a large pond, Shelldon's birthplace and where his sister, Shellsie, and others greeted his long awaited return, he and Boja continue to the shores of an immense lake called Midlania. There they meet Cora, a dragonicorn who is part unicorn. She accidentally discovers Boja's secret while Rak, unaware of the others' presence, descends for a nighttime drink of rainwater. Aroused to action, the emboldened Cora attacks the Trueblood's partner and butts him into the deep mud of the lake; all that remains of Midlania's water since it was mostly boiled away by Dragragon's fiery breath.

Boja knows, because of her return, that Cora attacked the dragodactyl who sinks ever deeper into the mud, ever closer towards his certain peril. Much to the others' dismay, the princess decides to rescue the enemy and pull him free. Seemingly ungrateful, the humiliated dragodactyl, too exhausted to fight, flies off.

Worried that Rak then knows of the queen's return and will inform Dragragon, Cora gives Boja her horn, which broke off in her scuffle with the dragodactyl. Moments later, the magical antler changes in form and becomes a removable ring on the Dragle's golden talon.

Leaving the dragonicorn behind, Boja and Shelldon meet up with Urrol, the other despised associate of Dragragon. The draguirrel suspects the travelers' intentions and reveals himself as a royal troublemaker.

Crossing varied terrain, engaging more Dragonians along their way, the intrepid duo are shown a short-cut to Grandohr's chamber by a dragiraffe named Geri, and her part elephant draglephant friend, Ellie. To reach Mamag sooner than otherwise, Boja and Shelldon must pass through Darcklan, a spooky dragraveyard located in the Valley of Gloom, a fog-shrouded gorge few dare enter.

Once in Darcklan, the pair are confronted by the spectral overseer of the boneyard, a stern governess known as the Mistress of Rest and Peace. When Dragragon unexpectedly approaches, the draghost helps the fugitives escape through a narrow, underground tunnel located just outside the yard.

Later, lost inside a cavern, Boja and Shelldon meet a half dragon, half cave-dwelling bat named Bela. Clumsy and a bit crazed, the half-deaf dragat nevertheless guides everyone to the foot of Mamag and eventually the Cave of Queens itself.

---
---
Book II / Season II
Flames Of Fortune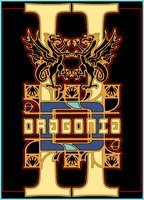 Fig. 15.
Although the Trueblood is elsewhere when Boja and Shelldon first enter the royal temple, where they seek a risky but quicker route to Grandohr's chamber, Dragragon suddenly appears and traps them within the Cave. After a brief skirmish during which the guardian is seriously injured, but with the surprising help of an unknown Deliverer, they elude the frustrated despot. Soon after, both finally join the grandfather within his high, cliffside cave.

Due to the trials and triumphs of her journeys, Boja comes to accept her important position of responsibility. If Dragragon can somehow be defeated, she is prepared to take her place as the Queen of Dragonia.

Unknown to Boja or Shelldon, a contingency plan to recapture the royal perch has evolved in their absence. As head of the Aakylan Council of Ardens, Grandohr's strategy calls for an attack to be launched from the Dragles' island haven, Moon Hala. A direct assault against the Trueblood's ill-gotten regime is planned. The arrival of his pacifist granddaughter, though welcome, has complicated the situation. She must approve the order, but Boja, who abhors violence, objects to the perilous scheme. The princess ultimately submits to her domineering grandfather, but simultaneously pursues a contingency plan of her own.

The princess shows interest in an old, disbelieved legend about a place called Zargahn. According to the tale, briefly mentioned by Wingston, a humming'gird confidant to Grandohr, many of the healthy Truebloods, not yet infected, fled through a hidden passageway and found safe harbor in a remote land far beyond Mamag's forbidden slopes. Boja figures if she could find the place, locate and inform the other, more peaceful Truebloods of Dragragon's crimes, they would surely depose the tyrant themselves and thus spare the lives of many Dragle warriors.

Believing his granddaughter's effort is pointless and doomed to failure, Grandohr sends word, via a speedy courier named Cazlon, to proceed with the assault as planned.

Despite her grandfather's protests, Boja and Shelldon then embark on another desperate quest. Wingston and his friend, Bela, the dragat befriended earlier by the princess, also join in a frantic race against time to discover the legendary land and its living Truebloods. If successful, they must hurriedly return from their campaign and, before it is too late, halt the imminent battle.

Though the crusaders find the secluded passage, they are unable to penetrate the wall of solid rock that blocks and seals the interior mouth of a secondary cave. Due to his small size, Wingston explores a tiny hole in the stone barrier, formed by Boja's use of the magic ring's depleted powers. Once inside the little tunnel, he will determine where it leads, if anywhere, then report back to Grandohr's chamber. Without a moment to spare, the other members rush back to tell the grandfather of their amazing discovery, hoping he will listen to reason and postpone the attack.

The courier, Cazlon, second in command of the Royal Guards and infatuated with the princess, finally returns from his mission to Moon Hala. No sooner does he find the princess, however, then she asks him to return the magic ringlet to Mamag, a journey that pits him against the dragodactyl. After his brief skirmish with Rak, Cazlon, along with Boja, Shelldon and Bela, risk a frantic flight back to the grandfather's quarters.

While aloft, the group is ambushed by Dragragon and Rak who, out of the nighttime clouds, descend upon the travelers. An aerial clash ensues, ablaze with streaking flames and claw-to-talon combat. When Dragragon's final victory is stolen from him in a surprise turnabout, the badly singed Boja, Shelldon, and Cazlon, minus Bela, hastily rejoin Grandohr in his deep cave.

---
---
Book III / Season III
The Hope For Zargahn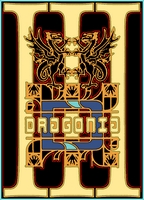 Fig. 16.
It is assumed that Dragragon was killed during his and Rak's ill-fated attack the night before. Immediately subsequent the major battle and safe inside Grandohr's chamber, Boja, Shelldon, and Cazlon rest, eat and make plans for the seasons to come. But later that same night, shortly before a previously planned dawn assault on the Trueblood, the four are awakened by a renewed onslaught.

More enraged than ever, a gravely injured Dragragon stands on the flightledge outside the chamber entrance. With the last of his strength, he breaches the outer passageway and draws ever closer to those trapped inside.

Wingston, the missing member of the group, suddenly reappears in the company of three other Truebloods. Brimstone, Drazil, and a female, Elysia, surround the incredulous Dragragon and end his raid. The humming'gird has indeed found the fabled land of Zargahn and told the other Truebloods everything. Unaware that Dragragon had endured the plague and stolen the Dragle monarchy, they have come to rectify his injustices.

Accompanied by hundreds of newly trained warriors, Cazlon and Boja's brother, Karnis, who is Commander of the Guards, return from Moon Hala and are surprised to discover the presence of the recently arrived Zargahnian Truebloods. After a tense confrontation, Karnis again travels back to the island, retrieves his sister's mother and father, the rest of the Dragle colonies, and escorts all of them, once more, to their mainland homes.

As punishment for the terrible deeds perpetrated by the unrepentant Dragragon, Boja banishes him to Zargahn, where his fellows can deal with the criminal as they wish.

Before the honorable Truebloods depart with the deposed renegade and head back to their mysterious homeland, they attend a spectacular ceremony and feast. Boja is coronated as queen, reunited with her family, and prepares for a future of restoring Dragonia to its former grandeur.

After a final episode sets the stage for unlimited future adventures, the story concludes as Boja awaits both the dawn of a new day and a new era.

---
---
O V E R S I G H T

Designed to be read by those of any age who enjoy fantasy stories, the three volumes that comprise DRAGONIA: Tales of the Golden Talon bring together a variety of elements not readily evident in these synopses. Pathos and humor are intertwined throughout each of the seriocomedic novels. Numerous plot twists and the emergence of an unlikely hero all combine to present an exciting, old-fashioned adventure fable.

With original, whimsical characters unlike the usual fare common to similar works, the classic tales of dragons, magic, and fanciful creatures are crafted amid traditional themes and in the process, created anew.

To avoid confusion over the large number of names, characters, terms and locales used in the trilogy, a separate and complete DRAGLOSSARY is included with each of the novels and provides details pertinent to all major story elements. As a supplement to the descriptions and definitions listed, fully rendered portraits and illustrations guide the reader through the various habitats of the DRAGONIA trilogy.


* * * *





You're currently on page DRA5
listed under DRAGONOMICON







Solve the word puzzle below.
Then check your answer.