The link above will take you directly to my personal
page and profile on Amazon. Go there if you like cats and other animals.
You won't find any listed; I just wanted you to know I like cats and other animals.
---
Robert Antonopolis?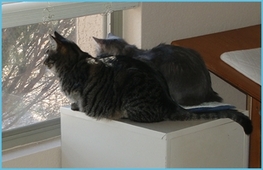 Fig. 1. Our two guard cats, Mila and Max.
I am originally from California and was born in 1946. After a four-year stint in the U.S. Army, eighteen months of which involved an all-expenses-paid tour of Southeast Asia, I attended Portland State University in Oregon during the 1970's and live today as a full-time artist and writer. With over forty years of experience in art (the last twenty in writing), I've spent almost two decades illustrating the six novels that can be reviewed in the DRAGONOMICON department and galleries of this website.
Subsequent to its completion in 1998, the DRAGONIA Trilogy evolved from a large, single-volume edition written during the previous five years and critiqued by the Saddleback Writers Guild of Orange County, California. After some additional course work on Creative Writing offered by Orange County's Saddleback College, the more refined and improved, limited-run Second Edition of the trilogy has since been printed and sold out. Currently selling as Kindle eBooks only and available exclusively from Amazon, a large portion of DRAGONOMICON is devoted to a formal presentation of both the trilogy and its twin, sister books, the YA trio entitled
DRAGONS AMONG US
. This latter trilogy of books represented my chance to up the ante, so to speak, and produce a more serious, more adult dragon story. The three volumes that comprise the series are: The Ghosts Of Walker Pines, The Lost City Of The Dead, and The Preliminary Outlines. This latter volume represents a compilation of lengthy outlines written for the unfinished third and fourth novels in the series. In addition, The Preliminary Outlines also includes workups for an extended series of ongoing novellas that might have followed a fourth and final book.
In regards to a past art career, my artistic talents are entirely self-taught. Refined by years of practice, trial and error, I did mostly private commissions during the seventies and eighties. My biggest claim to fame, I suppose, since this biographical section is supposed to be about me, was in 1979 when I obtained a coveted booth at the world famous Festival of the Arts in Laguna Beach, California. I received a lot of publicity when the crowds who gathered around my display unexpectedly disrupted the normal flow of visitor traffic. Lots of newspaper coverage, even TV as a result. You would have thought that some kind of ongoing fame should have come of all that, but life is funny and often has a warped sense of humor. In this respect, the fact that I eventually turned to writing bespeaks its own story.
Click here to see more about my exhibit at the Festival
.
Speaking of which, all my life I thought I knew how to write rather well, but at my first meeting with a critique group, however, I quickly discovered how little I knew about being an author. Always more of a movie buff than a reader of fine fiction, I wanted as much as possible to bring the drama and visual power of film (and art) to a literary stage. Coordinating new artworks for the DRAGONS AMONG US series, always refining the stories themselves, and working on new projects both literary and artistic leave precious little time for watching movies nowadays.
For the present, completion of the website where you're currently reading these words is of the highest priority. Learning to build the site, designing it from scratch and fitting all the pieces together represents a large undertaking to say the least. Hopefully never really finished with anything, the goal is to become so busy that I can retire once and for all, and then really get to work on producing more books and especially more art. I hope there's something to this reincarnation business; I may well need at least one more lifetime in order to complete what remains still undone in this current go-around.
By the way, the name
Antonopolis
was actually my original family name, until it was changed and shortened by a great grandfather or uncle Somebody way back when. Seriously. My father was born in Greece, mother in Austria. No wonder I feel like a foreigner sometimes. Sometimes on planet Earth itself. Anyway, it's a real hoot (to me) that even my name has an "…opolis" attached to it. Oh, and at the very bottom of this page, that's Max (on the left) and Mila. I figured anybody's site that displays pictures of their cats can't be all that bad or crazy. Okay, crazy maybe, but never bad, dishonest, or insincere.
---
---
Okay, so the pictures above are cheating somewhat. That's me on the left, or rather to the right of my wife of 40 years, Madeline (Mini) Marie. And yes, the photo is from 1990 -- 25 years ago. It's hard to believe we still look the same today. Okay, so that's really cheating. One day soon, I'll post a more recent image and we can all have a good laugh together. Madeline was my savior, so to speak. Had it not been for her personal support and encouragement, during good times and bad, I might well have been one of those homeless vets you see in the news, holed up somewhere, likely in a VA hospital or not even still with us. So how much do I have to be grateful for? As always, it's the people in our lives who make the difference. Sometimes we get ridiculously lucky and find just the right person at just the right time. Oh, those other two photos on the right are of the mustachioed master of small brushes and large canvases. From around 1980.

---
Shown above is my half-brother, Ron Tarentella, and his new wife at the time, which was the early 1970's. Six years older than I, we grew very close when he and his friends, Bill and Rocky Setting, Anthony Gaetani, and Paul Quinn became extremely supportive of my fledgling art career. Several years later, I found myself swamped by private commissions which kept things going for a long period of time. And produced literally hundreds of paintings. Many of these works are on display in the Basic Gallery pages listed under IMAGINOMICON. Sadly, Ron had suffered from years of battling Hodgkins disease and finally passed in 1982. To the right of the photo is Ron's favorite painting of mine, which he fished out of the trash -- literally. Frustrated by an inability to get my life in order and find direction with respect to my artistic talent, the painting had been tossed in the garbage, waiting to be taken out. When Ron stopped by and saw the thing, he reacted as though he'd found buried treasure -- and picked the painting as his wedding present. True story.

Not long after Ron left us, I hooked up with Ralph Travis and the MOMENTUMS Series was spawned. More on that story can be found on pages three and four listed under NOUMENOMICON. The story of my life, for those interested, has always been one of transition. Moving from one major endeavor to another, but never settling upon a single choice that would bear final and financially fruitful results. The big challenge from the last twenty years has been an indulgence in literature, and learning the often cruel craft of fiction writing. But that's another tale for another day. Or if you like, much of the story can be gleaned from the background pages listed under DRAGONOMICON.

In the meantime, I will be in the process of photographing and posting several hundred more artistic images which were produced during the rather prolific period of the late eighties and early nineties. Just prior to diving into (then gasping for breath ever since) the writing game. As a bit of extra trivia, the Tyrone Restorations (Attack of the Blood Sucking Dinobytes) exhibited under IMAGINOMICON on pages IMA15, 16, and 17 serves as a prime example of only one of the projects with which I was engaged during this transitory period. Before I transitioned into the next transitory period, that is. My good friend at the time, Len Gould, was also one of those whose positive encouragement and, in the case of Tyrone and company, his creative input as well, proved invaluable with respect to the sheer quantity of quality material produced during those years.
---
EPILOGUE
Since the text above was written, I finally photographed and posted the remainder of the artworks that were stored in closets, filing cabinets and elsewhere. For all intents and purposes, the site is now complete and, except for spelling and grammatical fixes, a dash more color here, a reworded essay there, this catacomb of catch-all collectibles is now pretty much a done deal. I will still be editing for the next couple of years (or more), a process that rarely concludes, but afterwards it will be time to figure out how to get more than two people and three cats (plus a dog, I think) to take a look at what's here.
-- Bob Anton, September, 2K14-17

* * * *


You're currently on the Robert Antonopolis? page
listed under Lounge.


Click below to visit the Customer Service main page.


Click here to hear some last words (hooray)
about the site and what I think is the meaning
behind Life, the Universe, and Everything else.

Return to the Lounge main page.

In case you missed it at the top of the page,
here again are all my eBooks available on Amazon.com.
(give the boy an "E" for effort)