Page 6



DRAGONIA: Tales Of The Golden Talon

Presents

The DRAGONOPOLIS COLORING STORY BOOKS

So much more than your average coloring books
1st editions / Issue date: 2001
No reprints / Supplies extremely limited

Own a complete set of the original black and white character drawings
used to illustrate the DRAGONIA trilogy of novels.

For Collectors, three fascinating companion pieces
to the original DRAGONIA Trilogy.

For kids (big and small), three new and exciting coloring books
full of fun, humor, and almost recognizable animals.
Each of them part dragon, but every one of them amazing and "dragonderful"!

Sold as complete sets only / Volumes 1, 2, & 3
Remaining boxed sets are very limited. First come, first serve.

Each high-quality 70-page Coloring book:
1) Contains previously unpublished story text available only with these volumes.
2) Contains original, previously unpublished artworks available only with these volumes.
3) Offers hours of coloring fun for children of all ages.
4) Makes an unusual and fascinating gift for family, friends, and enthusiasts of all ages.
5) Is synched with each volume of the DRAGONIA Trilogy.
6) Perforated, high-quality paper make for easy removal.

Printed entirely by the artist
Not available on Amazon.com / Not an eBook version
Only available dragonline
@
www.dragonia.net
www.dragonopolis.com

The Coloring Story Books

Introducing:


Coming in 2K17-18
D R A G O N E E R S
The Club


Timtu Wants Yu!

Become a warrior of the Royal Dragoknights
Official Guardians of the DRAGONOPOLIS Credo.
Protectors of Truth, Justice, and the Dragonian way.

Official Motto:
"One Part of All,
All Part of One."

The Dragoneers enrollment form
is listed in the Customer Service / Contact Me drop-down menu.

DRAGONIA: Tales Of The Golden Talon

A Look Back
Archival Promotional Blurbs, Excerpts & Miscellaneous Ad Verbiage
(all editions are sold out with no reprints)

Cook Books. Sorta.
The Perfect DraGift!

Three deluxe soft-bound full-length novels, beautifully illustrated
Each containing nearly 400 pages of original text and art.
Every volume an exciting adventure fable designed for readers of all ages.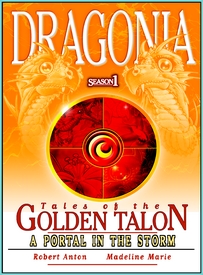 Revised cover / 2013 eBook
---
No single momentous battle will ever defeat
the great evils of the world.
When confronted by great good,
Darkness does not contend or compete with the Light;
It shrinks away much as the dawn forces aside the night.
Evil never engages in a fight whose outcome
Is not predetermined in its favor.
Rather it lies complacent, patient,
Ever vigilant and opportunistic.
Ever awaiting the light's decline when,
Once again for a time,
Night may rule the day.

Book I / Season I
A Portal In The Storm

Book II / Season II
Flames Of Fortune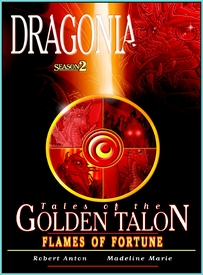 Revised cover / 2013 eBook Edition.
---
Book III / Season III
The Hope For Zargahn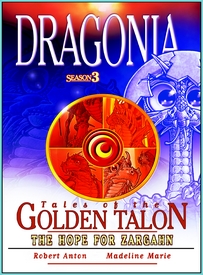 Revised cover / 2013 eBook Edition.
---
Manipulating Words and Language for a Phantasmagorical Landscape

D R A G L O S S A R Y

The Story Begins . . .

DRAGONIA: Tales Of The Golden Talon
from
Book I / Season I

A Portal In The Storm

P R O L O G