Page 3



D R A G O N I A : T a l e s O f T h e G o l d e n T a l o n
A Cursory Overview


An Introduction to LAIR Of The FIREDRAKE
(unused subtitle)

And now for something completely different . . .

D R A G O N S A M O N G U S
T h e S e r i e s


They've been living underground for fifty-thousand years.
Now they're returning to the surface, to reclaim the Earth.
And they have the firepower to do it.

One World. Two Top Predators.


Parte Um
The Ghosts Of Walker Pines

The Quick Take: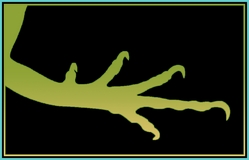 Fig. 5.
---
"While the escalator spilled its passengers onto another wide expanse of landing at the bottom, the scenery on all sides began to move on its own. Bushes shook and shrubbery wiggled, as loosened leaves drifted down from the higher branches of nearby trees.

The animals had taken notice of their visitors."

-- Excerpt from Book I, The Ghosts of Walker Pines

The Journey Continues:
Parte Dois
The Lost City Of The Dead


D R A G O N S A M O N G U S

Parte Tres
THE FLOODS OF CHAMADAR

Parte Quatro
DRAGONOPOLIS

T h e P r e l i m i n a r y O u t l i n e s

D R A G O N S A M O N G U S
Parte Um
The Ghosts Of Walker Pines

P R E L U D I O

T H E A R I Z O N A S T A R N E W S

E y e s O n S c i e n c e

Medieval Scroll Found Inside Ruins Of European Monastery.
Iconoclastic Discovery Said To Rewrite Standard Lore On Dragons.
Scholars Debate Meaning As Ancient Tome Goes On World Tour.